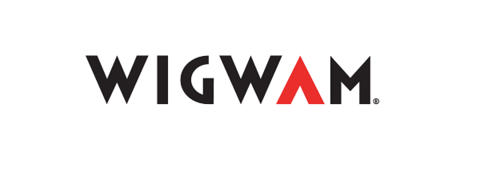 eldarkitchens is wild for Wigwam!            
For over 110 years, Wigwam has proudly knit pure American comfort in Sheboygan, Wisconsin. Woven in a state of the art manufacturing facility, their high-performance socks, and cold weather accessories are almost exclusively sourced from domestic yarn spinners and wool growers, so you can feel good when you wear Wigwam gear!
High-quality products made by an American company with a long history of integrity and commitment to the environment, their employees, community, and customers, what more could you ask for?    
Wigwam offers a variety of socks for a multitude activities that range from ultra light to extra heavy in weight, and from no-show to knee-high in length with different cushioning. Most of Wigwam's socks are made of soft, moisture-wicking Merino wool, cotton, and other fine synthetic fibers for comfortable feet.  
Learn about Wigwam's Ultimax® Fusion Technology, unique 2-in-1 liner and sock combinations that you can wear anywhere!
Check out some of our favorite Wigwam socks.
Wigwam IronMan Velocity Pro No Show Sock - €10.00
The Wigwam IronMan Velocity Pro II No Show Socks are the ideal performance athletic socks for athletes who refuse to compromise on features or performance. Like all of Wigwam's Pro Series socks, the IronMan Velocity Pro II keep your feet dry and blister-free by lifting moisture directly out of the foot of the sock. X2O Acrylic fibers also contain Chitosan, a natural odor-fighter that keeps your socks odor-free. And when it comes to breathability, the Velocity is one of the thinnest IronMan socks offered by Wigwam — and that, coupled with mesh vents on the top of the socks, means you'll get plenty of air. The IronMan line isn't just a name — since 1994, Wigwam has been the official sock of the IronMan Triathlon.
Wigwam Copper Canyon Pro Socks - €16.00
A cross cultural experience of hikers and flights. Perfect for steppin' out on the trail or your favorite place to grab some ales. Patented moisture control and Merino Wool create an environment that is like a secure hug, soft and warm.    
Wigwam 625 Crew Sock - €12.00
The Wigwam 625 Crew Socks are the original, classic, white wool athletic socks — throwbacks to the 50's and 60's. Great for all athletic endeavors requiring the extra bit of padding that wool provides — walking, tennis, or just casual wear.
Wigwam King Cotton Crew Sock - €9.00
The Wigwam King Cotton Crew Socks are extra-thick, padded, cotton athletic socks that won't wear out. Perfect for basketball players — or anyone who just wants a cozy cotton sock — the King Cotton will outlast your standard bargain cotton socks 10 times over. The thick padding protects your feet from the bumps and shock — and means you'll be able to ditch the slippers and get around your house in your Kings.
Wigwam Rebel Fusion Quarter II Sock - €13.00
Ultimax® Fusion sock and liner as one keeps feet dry and blister free, long wearing heel and toe, foot hugging fit and comfort, breathable mesh instep, seamless toe closure. Try the Rebel Fusion No Show II Sock or the Crew II Sock.      
Although socks are our favorite, we love that Wigwam isn't all about socks either. In fact, they have awesome cold weather accessories that will keep you warm and toasty in frigid temps!